Why Should I Bring My Pet to a Veterinarian to Be Spayed or Neutered?
Spaying and neutering are among the most common and important pet surgeries performed at the Trilby Animal Hospital in Toledo. Shelters receive more than six million homeless pets every year, and less than half of those animals are adopted, according to the American Society for the Prevention of Cruelty to Animals. This leads to the euthanasia of millions of pets a year, an unfortunate statistic that you, as a pet owner, can help diminish. By getting your pets spayed and neutered, you can prevent unwanted litters and decrease the number of pets who can't find homes.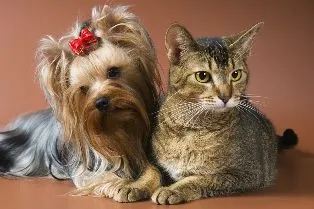 How Will Being Spayed or Neutered Affect My Pet?
Spaying is the term for removing a female dog or cat's reproductive organs, usually her uterus and ovaries. Neutering is most commonly the removal of a male pet's testicles. This pet surgery prevents dogs or cats from reproducing and can provide health and behavioral benefits as well.
If performed early enough in a pet's life, having them spayed and neutered can prevent mammary or testicular cancer and some life-threatening infections. It can also help eliminate unwanted mating behaviors such as yowling, humping, spraying urine, aggression, and running away. The procedure is unlikely to change your pet's personality or decrease how smart and playful they are, but it can keep them safer and more pleasant at home.
How Will My Veterinarian Prepare for Pet Surgery?
Consult with our trusted veterinarians, Dr. Alan Moore and Dr. Gina Lopez, about whether you should spay or neuter your pet. They can also help you decide what age would be the best for them to have the procedure performed based on your dog or cat's breed and circumstances. Once the pet surgery is scheduled, a pre-surgical examination will ensure your pet is healthy enough for the procedure. Our veterinarians will administer anesthesia to prevent any pain, and take every step necessary to ensure your pet's comfort.
To keep your pet safe after the surgery, ensure they rest inside in a calm environment for as long as your vet advises. You'll want to keep your dog or cat from licking the incision site and monitor them for any unusual symptoms, including redness, swelling, lethargy, change in diet, or vomiting.
For More Questions, Contact Tribly Animal Hospital
At Tribly Animal Hospital, our mission is to ensure the animal companions of the Toledo community are safe, healthy, and happy. Contact us about your spay and neutering concerns, and we'll ensure your cherished pet is treated with the compassion and respect they deserve.